Why Building With Butler® Manufacturing is Better for Our Clients
Since 1972, we have built hundreds of structures—large and small—for manufacturers, commercial businesses, warehouse and distribution clients, and retail establishments throughout Michiana. And, because we tend to do more than one job for a client, we have the opportunity to see how well these buildings weather time, heavy use and our Michiana climate.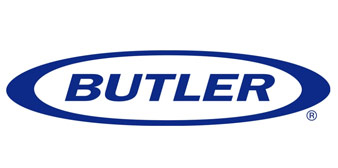 That's why in 1980 we made the decision to partner with Butler Manufacturing™ by joining the largest network of construction professionals in the world to provide our clients with the best steel buildings in the industry. We see many advantages to building pre-engineered steel structures, notwithstanding the unmatched durability and affordability that Butler Buildings offer. Throughout every stage of construction and over the entire lifetime of the building, our clients enjoy time- and money-saving solutions by using J.A. Wagner Construction's design-build services paired with the Butler Building System.
Pre-Engineered Construction Services
At J.A. Wagner Construction, we are proud to be your local Butler Builder® representing the world's leading producer of pre-engineered metal building solutions. A Butler Builder since 1980, we are your experienced construction partner and can assist you in meeting your facility's needs—from conceptual design to final landscaping—no matter what type or size of facility you need.
Our services include:

• Budgeting and expert design consultation
• Preconstruction services
• Complete construction management and design-build services, from permitting to steel erection to close-out
With hundreds of successful building projects under our belt, we bring together local construction knowledge with Butler—a world-class steel building solutions company. Our commitment is to provide every customer with an exceptional experience for their unique construction project. The amazing style, versatility, and affordability of Butler Buildings make them the logical choice for a variety of commercial facilities.
Whether you're looking for a simple building solution, a retrofit roof, or a multiple building complex, Butler buildings offer a fast, affordable, architecturally appealing, and environmentally-friendly solution with many significant advantages. The benefits of using a Butler Building System are numerous and so are the advantages of working with J.A. Wagner Construction as your turnkey provider of building construction.
The Top 6 Benefits of the Butler® Building System
1. Design Flexibility
A Butler Building System offers virtually unlimited flexibility with regard to your building design—from distinctive exterior aesthetic options to functional interior configurations. You can also choose a hybrid solution that combines conventional building materials with the efficiencies of systems construction.
• Rigid frame design facilitates virtually any building size and shape
• Exterior options include stucco, brick, and glass, in addition to Butler's selection of metal wall panel systems
• Clearspan and longbay structural systems create large areas of uninterrupted space to maximize productivity
• Flexibility to install the weathertight MR-24® roof system, the industry's finest standing-seam roof system with more than 40 years of proven in-place performance
2. Reduced Construction Time
One of the greatest advantages is the ability to reduce your construction schedule. In fact, using a Butler Building System has been shown to reduce construction times by up to 30% versus conventional building methods.
• All Butler structural steel is precision engineered using state-of-the-art computer modeling to facilitate faster assembly in the field
• J.A. Wagner's design-build delivery system eliminates third parties to streamline construction and further condense construction schedules
• Regionally located manufacturing plants allow for shorter shipping distances and faster delivery times
3. Expansion Capability
A Butler Building System can meet your needs today as well as your company's future needs. A Butler Building can easily be expanded in width, length and height by adding additional bays, or new structures to the end walls.
4. Low Maintenance
Steel buildings resist damage from high winds, heavy rains, termites, ants, lightning and mold better than conventional building materials. Plus, steel structures and roofs are easier to maintain than wood-frame and concrete structures.
5. Energy Efficiency
The demand for products and systems that can reduce energy consumption is greater today than ever before. Butler offers a range of energy-efficient roof and wall systems that can achieve a thermal efficiency rating of R-40 or more if required.
6. Sustainability
All Butler Buildings contain up to 74% recycled steel and all Butler Buildings are also designed to be easily disassembled and reused or recycled.
Recycled Steel
Steel is the most recycled material on earth, and recycled steel is an essential ingredient used in Butler and BlueScope Steel's integrated steelmaking processes. The electric arc furnace process used at the North Star BlueScope Steel plant in the United States is more environmentally friendly than basic oxygen furnaces—enabling the use of 75%–100% recycled steel.
FACT: All Butler Buildings contain up to 74% recycled steel and all Butler Buildings are designed to be easily disassembled and reused or recycled.
The MR-24® Roof System
For new construction and reroofing projects
Butler's MR-24® Roof System is the industry's first and finest standing-seam metal roof system—with more than 40 years of proven, in-place weathertight performance. This system offers you reliable weathertight performance and unmatched peace of mind in virtually any commercial or industrial building application.
Features & Benefits
• Acts like a monolithic steel surface covering your entire building and providing superior protection
• Specifically designed with movable clips to accommodate roof movement under changing temperatures
• Creates an exclusive 360-degree Pittsburgh double-lock seam, with the final 180 degrees field rolled, for superior performance and protection
• Factory-punched panels and structural members assure proper alignment and accurate installation
• Accommodates additional insulation thicknesses to enhance energy efficiency
• A material-efficient option with compelling sustainability attributes
• Available in several cool colors for added energy savings
• Can save up to 90% on roof maintenance costs
CONSTRUCTION SERVICES
---
From preconstruction to final close-out, J.A. Wagner provides you
with full-service construction solutions.
CONSTRUCTION SERVICES
---
From preconstruction to final close-out, J.A. Wagner provides you
with full-service construction solutions.