J.A. Wagner Receives Prestigious Volume Awards from Butler Manufacturing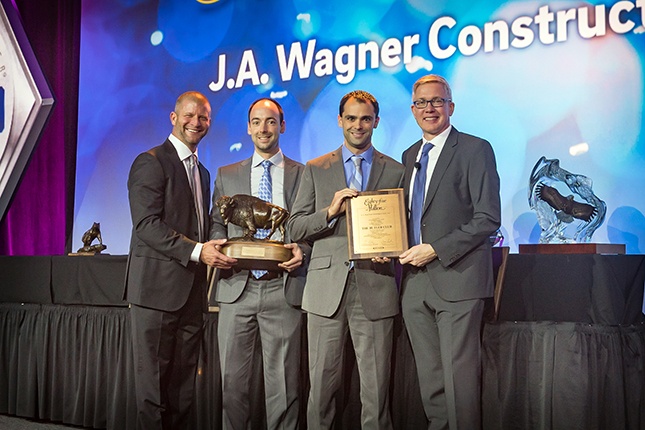 Pictured left to right: Steven Hudgins, Vice President of Butler Manufacturing, Tony Harman, Project Manager at J.A. Wagner, Andy Harman, Project Manager at J.A. Wagner, and Greg Pasley, President of Butler Manufacturing.
J.A. Wagner Construction is honored to have received two awards from Butler Manufacturing™ at Butler's recent national sales meeting in Kansas City, Missouri. The $85 Million Lifetime Volume Award and the 2017 Million Dollar Builder Award were presented to Tony Harman and Andrew Harman, Project Managers at J.A. Wagner.
J.A. Wagner became an authorized Butler Builder® in 1980, and our team has now sold more than $85 million in Butler pre-engineered steel buildings and roof systems. The Million Dollar Builder designation is awarded to Butler Builders who sold at least $1 million in Butler buildings in 2017.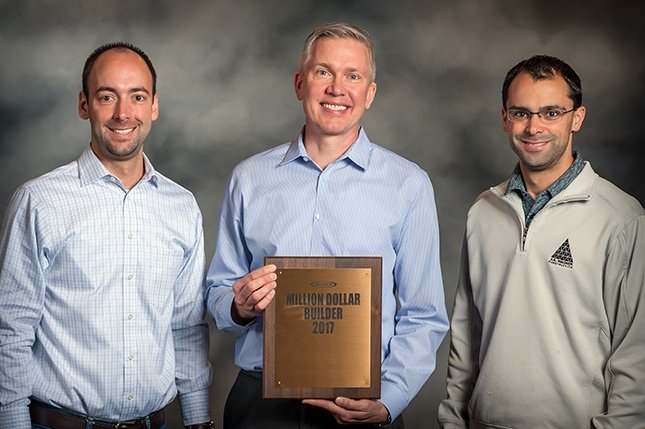 "We are honored to be recognized by Butler. Our relationship with Butler allows us to provide our clients with high-quality building systems, all while staying on schedule and on budget. The benefits of utilizing Butler's building systems are unmatched in the industry," says Andrew Harman.
For more than four decades, J.A. Wagner has provided quality construction solutions for our clients in every shape, size, and configuration. Custom construction is our specialty and we recognize no limits when it comes to our client's needs and satisfaction. We engineer solutions to the challenges that our clients face.
Light or heavy industrial buildings, high-tech manufacturing facilities, corporate office buildings, and religious facilities are just a few of the projects found in our portfolio. We pride ourselves in teaming up with clients to identify their needs and constructing facilities that will serve them not only today, but well into the future. "Our partnership with Butler Manufacturing means that our clients' buildings will withstand the elements as well as maintain integrity and performance for many years to come," explains Harman.
Check out some of our projects using Butler Building Systems here >>>
Butler Manufacturing™ provides a comprehensive combination of design-build construction solutions and innovative building technology to the commercial construction market. Every Butler® building solution is backed by unrivaled research and testing, ensuring that Butler building systems perform to the highest standards. Through a network of more than 1,400 Butler Builder dealers worldwide and corporate accounts services, Butler addresses the demand for environmentally friendly and energy-efficient design in community, commercial and industrial buildings.
Butler is headquartered in Kansas City, Missouri. For more information about Butler Manufacturing, visit www.butlermfg.com.