J.A. Wagner Helps Global Link Rev Up for RV Industry Growth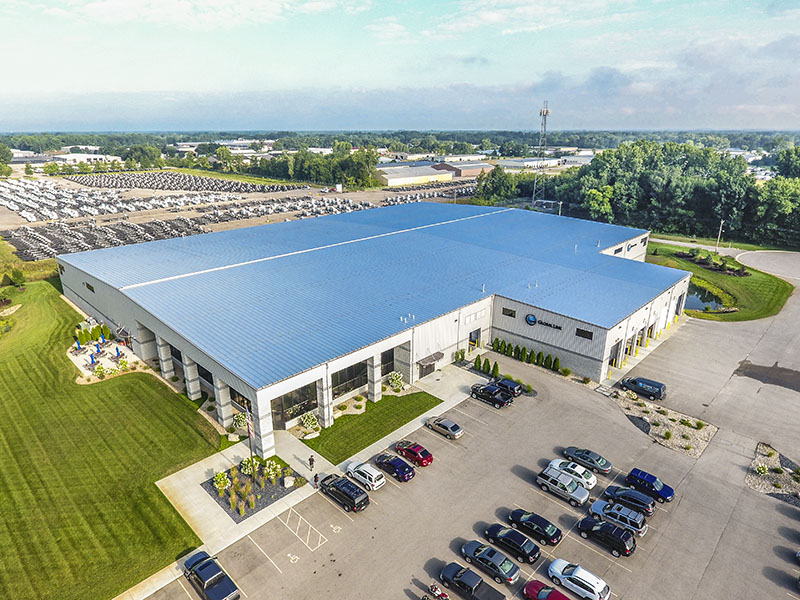 It has been a pleasure to continue our relationship with Global Link Distribution in Elkhart, Indiana. The J.A. Wagner Construction team recently completed a major expansion and renovation project that's helping the company handle myriad challenges as a result of its vital and rapidly-expanding business.
Global Link Distribution is a leading supplier of OEM products for the RV, manufactured housing, cargo trailer, fencing, and cabinet shop industries. Founded in 2007, Global Link's products include locksets, fasteners, latches, drawer slides, and cabinet hardware. Innovators at the firm also perform research and development in their quest to provide the highest quality products and customer service to the growing RV industry.
J.A. Wagner appreciates the repeat business, the ability to assist Global Link in meeting its corporate goals, and the excellent working relationship we've developed with the company. Our recent work at Global Link involved the construction of a 44,460-square-foot Butler pre-engineered metal building for additional storage space and included three enclosed loading docks and numerous windows to provide daylighting for the new plant facilities.
[Read more about the benefits of daylighting here >>>]
RV Industry: A Sector on the Move
Global Link is a market force in the RV industry, a sector historically headquartered in Elkhart. Our work was completed just as the Recreational Vehicle Industry Association (RVIA) Board of Directors approved a comprehensive strategic plan and multi-million-dollar investment to address RV owner satisfaction. Their efforts also aim to improve the RV industry's shortage of trained technicians and to implement metrics to track the RV customer experience.
The newly-formed RVIA will establish a headquarters and training facility in the Elkhart area, where it will launch an aggressive recruitment campaign to attract new technicians into the RV industry. The RVIA is taking a leadership role in closely monitoring RV owner satisfaction, driving members and partners to focus on reducing repair times and aggressively working to improve the industry's shortage of trained RV technicians.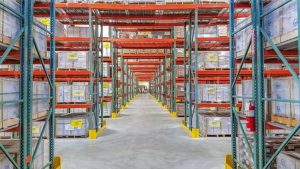 The project is backed by an initial $10 million seed fund to set up the RVIA's education center. The goals of the center are to jumpstart an aggressive, three-year campaign for implementation of technician training accreditation, curriculum and credentialing, delivery, marketing, tech recruiting/placement and repair event cycle time reduction. These efforts will also position it as a key performance indicator for customer service in every segment of the RV industry.
The RVIA expects a record year in 2018 and even higher totals next year. The Virginia-based organization, which has an office in Elkhart and represents some 400 manufacturers and suppliers, expects close to 540,000 units to ship in the U.S. by year's end. The industry and Elkhart County — where most RVs are made — were hit hard by the Great Recession, but the RVIA says it has experienced nine consecutive years of growth and two straight record years.
Building on Past Projects
Our recent work for Global Link, which started in the fall of 2017 and was completed in the spring of 2018, culminated a master plan to expand and streamline company operations.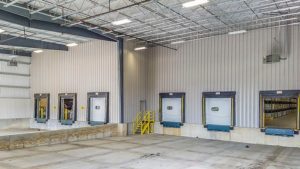 As Global Link grew, it had leased multiple facilities to manage operations and store inventory. By 2015, the company realized that constant driving to multiple locations to fill orders and stock inventory was wearing out not only employees, but also the company's vehicles. A consolidation plan was devised to enable Global Link to grow both in the short term as well as into the future, and has allowed the firm to strengthen its diverse supply chain.
Our first project for Global Link involved the design and construction of a 63,000-square-foot Butler pre-engineered metal building to house all offices and warehouse space in one location at 700 Patricia Court in Elkhart. Their new facility included offices, a lounge-style employee break room, a high-end conference room, and a grand 22-foot lobby. More than 11,000 square feet of concrete and bar joists were used for construction of the second-floor mezzanines; all the common areas were finished in attractive polished concrete.
[See photos and a project overview here >>>]
The site was designed for maximum expansion potential, including the newly-built facility additions. The plan was also wisely designed to maintain three acres of natural canopied forest on the parcel to retain the site's aesthetic appeal.
As Global Link CEO David Pairitz said at the time, "This new facility was designed to achieve maximum efficiency for our distribution operations that could not have otherwise been achieved out of the multiple facilities we were operating in."
"The expertise, planning capabilities, flexibility and professional personnel the Wagner team provided was greatly appreciated," Pairitz added.
Global Link Poised to Tap Market Potential
All of our work for Global Link is designed to make sure the company is poised to tap the burgeoning market for recreational vehicles, a growth sector currently fueled by an improving economy and a massive cohort of American retirees eager to travel the U.S.
Today's RV lifestyle offers people options to take more frequent weekend trips or mini-vacations that better fit busy family schedules. Cutting edge RV companies are also producing more lightweight trailers and fuel-efficient motorhomes with features like solar panels and other energy-saving components.
While our expertise is in construction, J.A. Wagner is also committed to being a trusted partner. We seek to understand the needs of our clients, the markets they serve, and how we can best help them to control costs, create new efficiencies, and capitalize on opportunities and long-term investments.