Center six one five Brings Much-Needed Convention Space to Michiana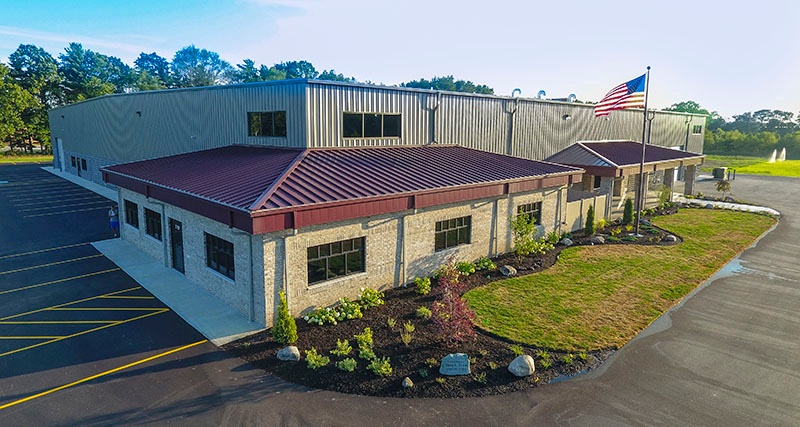 The new Center six one five convention and tradeshow facility in Elkhart, Indiana.
J.A. Wagner is pleased to announce the completion of Center six one five, a state-of-the-art convention center and meeting space located in Elkhart, Indiana. Not only does this facility bring much-needed meeting space to Elkhart, but it also helps realize the dream of late local entrepreneur, Gary Price. He envisioned a space in which local businesses could conduct meetings, trade shows and luncheons without having to travel to South Bend or Chicago. After his passing, Gary's wife Kim worked closely with our team to construct the facility he had always envisioned.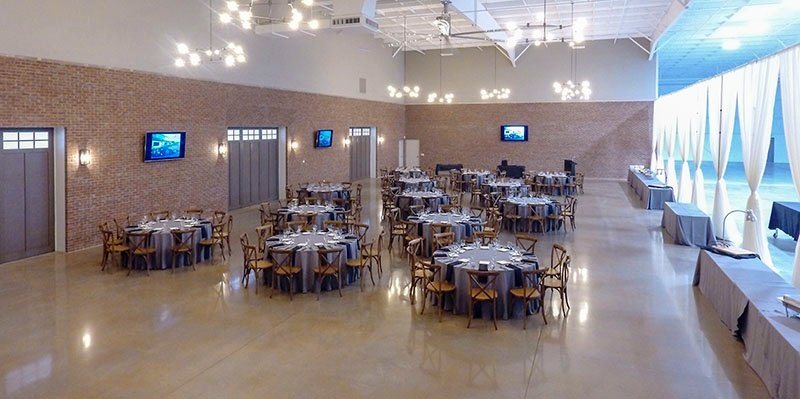 The new $3 million convention center was completed in May 2017 and is named for its location near the intersection of County Road 6 and State Route 15.
It features 26,350 square feet of event space, including a 6,830-square-foot banquet room finished with polished concrete floors, rustic brick, and reclaimed barn wood planks. In addition to a complete commercial kitchen for food service during events, the facility includes an outdoor patio with bar service.
The Butler® pre-engineered metal building also includes an 8,900-square-foot private office and garage space, and a 7,000-square-foot professional photography studio, equipped with fully-dimmable and individually-controlled LED lights, supporting offices, labs, and restrooms. This well-lit commercial studio is designed to showcase large equipment, recreational vehicles and industrial machinery. Local businesses can use the studio to photograph and promote their products. The versatile space can accommodate photography projects of any size, and 24-hour security and key card access make the studio a secure location for products before, during, and after staging.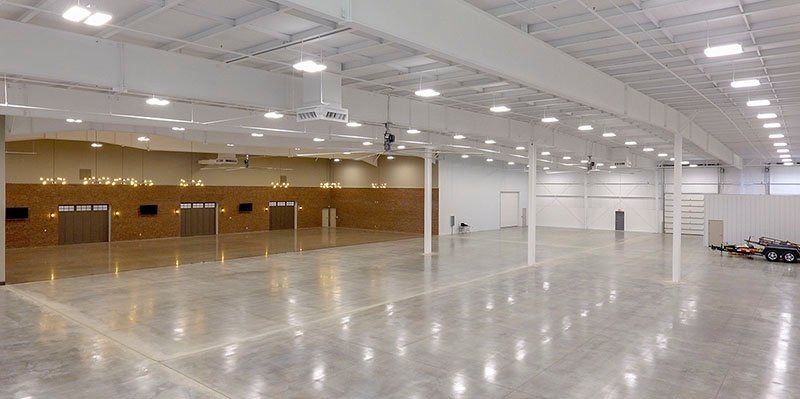 Center six one five's large overhead doors and 24-foot ceilings can accommodate everything from recreational vehicles to classic cars to home improvement and trade shows. Sophisticated audio/visual equipment was installed in all areas of the conference center, accommodating private and corporate events of all sizes.
We aimed to create a space that was both high-tech and polished. It proved challenging to integrate the sound and presentation systems all while trying to conceal the necessary wiring and piping.
Our team was thrilled to complete this local project, as we aimed to make Center six one five both a regional showcase and a nationally-recognized convention and meeting space. "Center six one five is an amazing facility," notes Tony Harman, Project Manager at J.A. Wagner. "It's definitely on our list of special construction projects we'll always remember. And, it's a great asset to the Michiana region we call home."