New "Hub and Spoke" Facility for Universal Trailer is Unique Approach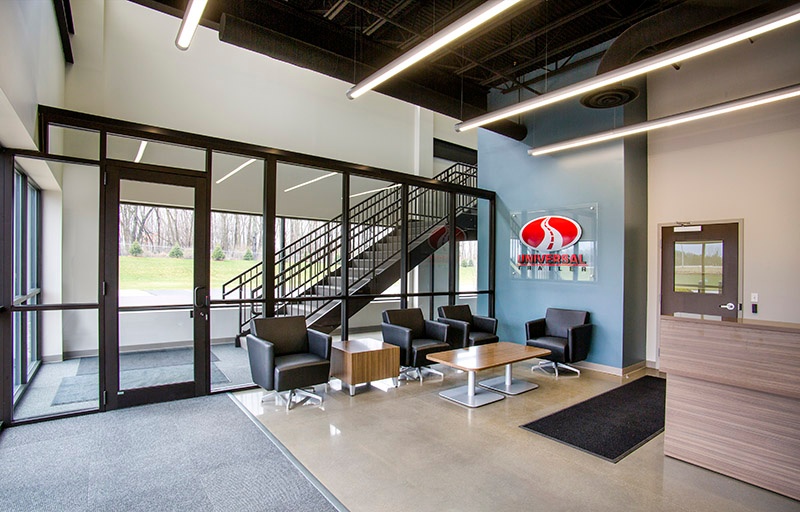 The design-build project for Universal Trailer involved the construction of a 199,808 square-foot "hub and spoke" style facility for the production of fully-assembled trailers as well as trailer kits.
Playing an important role in a large-scale construction project is always exciting for us here at J.A. Wagner Construction. But, being part of new construction model is even more exciting. We found this to be true earlier this year when we constructed Universal Trailer Cargo Group's new paint and production facility in the heart of the Midwest in Bristol, Indiana.
Universal Trailer is known for its high-quality trailers. Its brands, which include Haulmark, Haulmark Motorcoach, Featherlite, Featherlite Specialty, Exiss, Sooner, and Wells Cargo, are commonly seen on highways across North America. The company manufactures horse trailers, livestock trailers, ATV trailers, motorcycle trailers, snowmobile trailers, race car trailers, custom car trailers, equipment trailers, and made-to-order trailers for specialty hauling projects.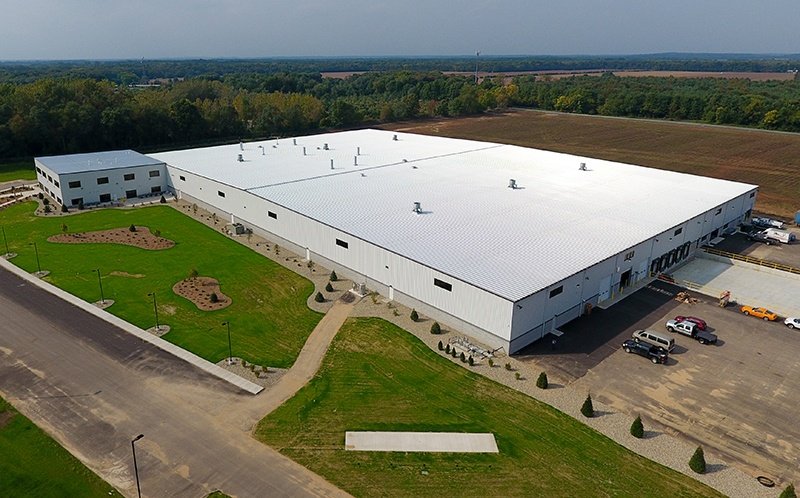 The design-build project for Universal Trailer involved the construction of a 199,808 square-foot "hub and spoke" style production facility for trailers up to 24 feet. The $25 million project, constructed on a 42-acre site, was designed and built to accommodate not only current needs, but also future expansion needs.
The unique part about this facility is that it was built to support a "hub and spoke" production model—a new concept for the trailer industry. The new Bristol plant, which is ideally situated in Indiana, a state whose motto is "Crossroads of America," not only fully assembles trailers, but also builds trailer kits that are shipped to other Universal Trailer facilities across the country. Kits include the chassis, walls, and roof for a wide range of trailer heights, widths, and lengths.
"The idea is very scalable," according to Scott Samuels, the director of marketing for Universal Trailer. "If we open a manufacturing facility in the Southeast, the plant here has the capacity to handle it. We produce kits here and ship them to the new location. The new location essentially serves as an assembly facility, which we can open at less cost than if we chose to operate a string of self-sufficient manufacturing plants."
The modular production process allows the company to satisfy global market demand.
"(We can) produce twice as many trailers per week versus the traditional production methods used, all the while keeping our quality high," Samuels said. "For us, this is a completely new business model."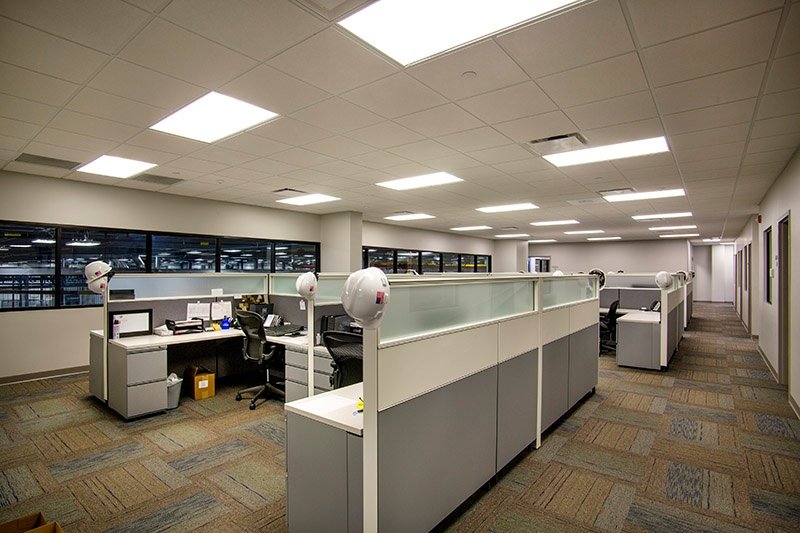 The Butler pre-engineered metal building provides nearly 175,000 square feet of production space and 25,000 square feet of open concept office space. Project details included a second floor with 11,200 square feet of bar joist, concrete decking, and a glass railing, and a 5,000 square-foot pre-cast concrete panel mezzanine. The modern, architecturally stunning lobby features polished concrete, exposed painted structural ceiling, glass walls, and LED tube lighting throughout the space.
In addition, our work included installation of three robotic welders, a fully-automated paint line with dip tank, six roof-top summer ventilation fans, and seven 24-inch "Big Ass" fans (yes, you read that right—that is the real brand name of these commercial and industrial fans!).
"Our construction team weathered the project's many challenges. We had a tight timeline for enclosure of the building and an unusually wet summer. Clear communication and coordination of tasks ensured that the project deadlines were met," noted Andrew Harman, Project Manager for J.A. Wagner.
"We know that the only thing better than a brand new job is seeing an assignment come to completion. We're glad to have been a part of Universal's team on this unique facility—a project designed for success over the long haul," added Harman.
RELATED POST: 6 Reasons Why Now Is The Time To Build Your Project
---
About J.A. Wagner Construction
For more than four decades, J.A. Wagner has been committed to the single goal of customer satisfaction. We have constructed millions of square feet for hundreds of satisfied customers in a multitude of states from Ohio, Michigan, and Kentucky to Utah and Texas. From building it new to renovating it to look and work like new, our company aims to make sure the spaces our clients use fully support their long-term business goals.
If you are looking for an innovative approach to your construction needs, we have a solution. Call us today or email andrew@jawagner.com.