When Construction Entrepreneurs Share, Learn, and Build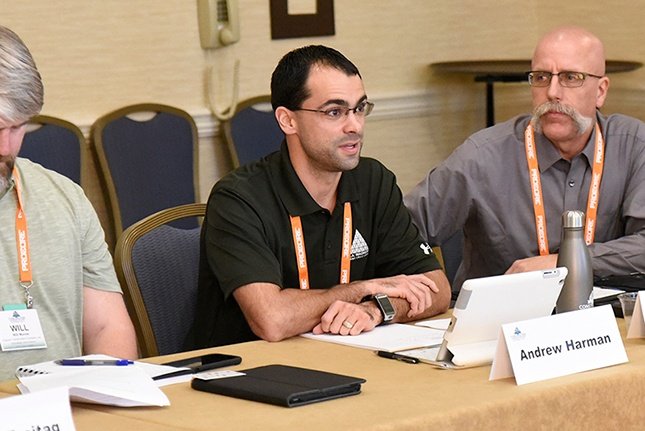 We all need mentors and others to look up to. Fortunately, for J.A. Wagner Construction, we have an entire network of mentors. Last week, a member of our team attended the Construction Leadership Network (CLN) conference in Tampa, Florida to practice win-win sharing. The CLN membership is comprised of a diverse group of entrepreneurs, commercial contractors and construction industry providers from throughout the U.S. and Canada.
Our membership in the CLN enables us to exchange information, share both successes and lessons learned, and form life-long relationships with like-minded construction professionals. The CLN was formed on the principal of bringing together top construction entrepreneurs to exchange ideas and share best practices to improve the construction industry and companies like ours. The mission is simple: Share…Learn…Build.
Project Manager Andrew Harman, pictured right, spent three days in Tampa at the annual CLN conference. And, although it was sunny and warm, he was inside learning about company differentiation, performance management, and how to find and develop the next generation of leadership.
He attended focus groups on project management, and responding to RFQs. "Being a member of CLN means having direct access to contractors around the country with a variety of specializations that are always available to either provide guidance or partner on projects anywhere, anytime," says Andy.
Andy also learned about creating a positive company culture and mastered seven actions for ensuring workplace safety. He met within peer groups and listened to panel experts talk about project management and what owners seek in a construction company. Andy recalls his favorite events of the network meeting as being "the opening keynote speaker, economist Anirban Basu who presented a professional opinion of the current market conditions backed up with research."
Andy adds, "In addition, the round table discussions, where there was direct sharing with people in similar roles and where you can ask the exact questions on your mind and receive a variety of immediate answers, were really beneficial."
Throughout the year, we are connected to the CLN membership by a web-based tool that enables us to communicate in forums, share documents, learn about each other's capabilities and strengthen our bonds. 
We value our membership in the CLN because it makes us better contractors and we can use the information we learn in our businesses as well as on the job site.
We are already looking forward to next year's network meeting where we will have the opportunity to connect with our friends and mentors who share the same values and out-of-the-box thinking that we enjoy. Andy values his relationship with fellow CLN members.
"The greatest benefits of being a CLN member are learning what others do so that we can improve ourselves without the risk of competition in local markets. Additionally, continuing to build lasting friendships and relationships with others and being able to connect with them for questions and assistance in a variety of specialties is priceless."